Ever set your sights on something, and you'll not settle for less?
This is a personal story about the $500 boots I could not afford in college -the challenges of weighing style, cost, durability, comfort and ethics in sustainable shopping. Followed by 11 takeaways to empower you while shopping for clothing, shoes or accessories that will make your heart sing.
The Story:
Fortunately/unfortunately I've always wanted the best in life, even when I could not afford it. That's how I went to college at Pratt Institute in Brooklyn (that, and student loans). I have a generous family, and one very generous Aunt offered to pay for all my (very expensive) art supplies. It was comforting to know that no matter how broke I got, if worse came to worse, I could eat my paints and still finish my degree. (Thankfully it never came down to that.)
If you know New York, you know that shoes are a big deal.
They get serious mileage.
The longest any pair of shoes lasted me was one year.
Boots were the best because they could handle fall, spring and winter seasons.

Every year I had to buy new boots and make a serious calculated decision about:
Price
Durability
Comfort
Style
At age 19 and 20, those were tough choices.
I agonized over these four decisions and the sacrifices I had to make. In the end, I tried to steer towards comfort and style at the $100 price mark. That was my limit.
At the beginning of my senior year, I found myself in Williamsburg (Brooklyn) on a frigid January evening with a light snow packing the sidewalks. I was touring the streets (probably headed to some warm hipster cafe), when I passed a window display of shoes and winter boots.
It was love at first sight.
I wasn't even shopping for boots yet… but that's what happens when you stop looking for Mr. Right. He shows up, isn't it?
And then, there it was… 
$500. (No, that did not include sales tax.)
What?! I've never paid more than $100, maybe $125 if we count sales tax, on a pair of shoes.
$500 was like my intern's salary for 3 months!
There was no way I could afford those, and no sense in it whatsoever. Vanity, just to look cool, right? Well I went home that night and these boots stuck in my mind like gum stuck to the underside of a shoe.
I could not get it out of my head that these were perfect. It wasn't just because they looked cool, though they were the styliest-looking boots I had ever seen. They were not trendy cool, they were my-heart-and-soul-expressed-in-a-shoe cool.
What also won my heart was that they weren't plasticized, they were real leather inside and out, from toe to sole, and even had a wooden heel with one tiny little piece of rubber. I loved that. Real materials that weren't going to go to landfill (except that tiny piece of rubber). And my heart skipped when I found out the leather was vegetable tanned.
Really? No toxic chemicals in the environment?
The workers weren't going to get some nasty cancer for making my boots? They were going to go back to the earth without hurting an earthworm?!
Not only that, they were hand-crafted by an artisan in California, a real person making his art, pouring his heart into it, not some industrial factory.
Had I even tried them on yet? No.
Did I know anything about how comfortable they'd be, how practical (as my family would have emphasized)? No.
I knew they were everything I wanted in a boot, and I dreamed it would deliver comfort too.
I also had no clue how long they would last…
So, I did some calculating: if these boots last me 5 years, that's the equivalent of what I was spending annually and I could break even.
I asked the salesperson "How long will these boots last?"
It was then and there that I realized there are two types of shoes:
The ones you use and throw away
And the ones you sole and resole and resole until you wear the life out of them, your toe pokes-a-hole-through-the-leather kind of wear.
These boots landed in the second category, and I was sold (almost).
Those were the days when 20 bucks made my week.
I didn't have the money, not by a long shot. So what did I do?
I campaigned. (My birthday was around the corner.)
A present is one thing, a $500 present, not something you casually ask for. So I made a deal. This was my birthday-present-deal: you pay for some, I'll pay for some? In the end, (I have no idea why one aunt agreed to my crazy scheme to get these outrageously expensive boots) she gifted me $200 and I bought them.
Want to know the really scary part?
The first time I tried them on (as I was about to make the purchase), they didn't zip up past my ankle. The saleswoman explained to me that they were intentionally made too small and I had to trust that the leather would soften and stretch to fit.
So I am shelling out a non-refundable $500 for boots that don't actually fit and I am hoping to God don't hurt like hell when I walk in them because they have to last me the next 5 years (or at least 3) of pavement pounding?!
It is the biggest leap of retail faith I've ever made.
Kids do crazy things.
Okay, this is actually the moral of the story:
I still have and wear those boots, 15 years later.
They fit me like a glove and became the most comfortable shoes I had ever owned; and for years I went everywhere in them. I lived in them and nothing else.
And, they're still cool. I get compliments on them wherever I go.
I've replaced the zipper twice and the wooden heel and resoled them countless times.
And, I may never buy another brand of shoe again. Thankfully they're still in business. I can't imagine my life without them.

I recommend shopping for life, not for a one-night stand.
The 11 qualities to look for in a fashion brand...
I don't endorse brands because they can shift from one day to the next.
My style may not be your style.
And I think it's way more powerful to learn what to look for.
Nevertheless, I will share this one brand that has captured my heart: Cydwoq (pronounced like 'sidewalk'). They epitomize most if what I think a fashion brand should be like.
Here's why and how you can learn from them, what to look for in an ethical fashion brand (of shoes, shirts, socks, whatever):
Brand vision Not Trendy vision
They have a vision and they haven't strayed from it in the last 15 years I have known them. They still sell the same boot I fell in love with. They're not chasing trends. And you can bet that when these boots finally give out, I'm going right back out there to replace them with the slightly revised model. How exciting is that?

They haven't tried to conquer the world with their brand. They've stayed small, simple, content with what they do and they don't want to do it all or be-it-all for the whole world They know that if they scale up they lose control. They know if they partner with some big brand they lose control. And at the end of the day, they don't want to open flagship stores in Miami, Paris and Milan, they want to take pride in what they make. Bigger is not better, better is better and that's what they focus on. [Bigger vs. Better]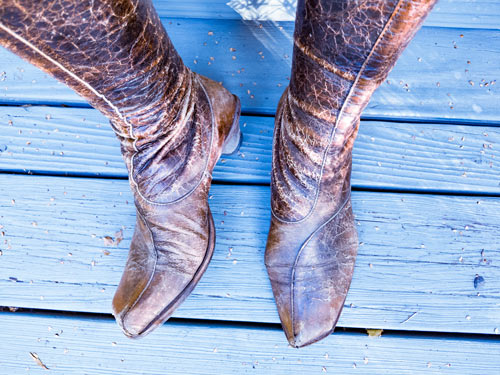 Long-term perfection Not Short-term gain
They are a family business, learned the trade from their fathers and passing it down to their sons. It means they're not in it for a quick buck. They didn't take a design class and call themselves a shoemaker. They have honed the craft, and made it an art. That takes time and lots of patience. they are in it for the long haul.

For their pride Not For your money
Whether the vegetable tanning was a decision made for personal health or health of the planet, it's great and it's not hype. They don't shout it out at you or wear it on their sleeves as some huge marketing campaign. It is just one of the details because it matters to them. When it matters to them I trust it more. When it's used to get me to buy, I am leery. It shows their modesty and humility -where they could boast they don't.
Built to last Not Built for now
They back their craftsmanship. All those repairs on my boots, done by them. They know how it was built and the fact that they want it to last makes me feel like they care about me, they respect me and they are proud of their work. They know materials and money are precious and they don't squander it. That is respect for everyone, including the cow and the planet.
True cost Not Market cost
They haven't raised their prices in 15 years. Their price is the true cost (or if anything a little less). They know what the value of it is and what they need to be healthy and happy. They don't need more and they're not cutting corners for less. That's serious integrity.
Transparency Not Secret operations
Their workshop is located in LA, a place I can visit (though I have not). And it's not a dungeon, they transparently show images of the workshop right on their website. I can see what the working conditions are like. And I'm pretty sure, based on their other long-haul activities, that they treat their employees as if they are in it for the long-haul too. They are building relationships with their clients and their employees and honing their craft.
Designed to last Not Designed to fail
The boots got better with age. The look is like a well-worn leather bag, something that has traveled and has character. It didn't scuff the first week and look ugly. They were made to age by design and selection of materials. The fit is moulded to my foot, and that too was made by design. They didn't hurt my feet after an 8 hour work-day because they put a metal shank for arch support in there, by design. Small details but when a product is designed well and designed for longevity, it makes a world of difference. If they looked ugly after the first month, I might have felt embarrassed going out with them, relegating them to the back of my closet and it would have been a total waste of materials and money and craftsmanship. But no. Hundreds of miles later they look rugged and well beaten up but they have a character, a beauty that makes me still proud to wear them today.
Offering Not Manipulating
They're not trying to sell me anything, they're an offering to the world. Their images aren't angry models in glamorous dresses, they are the shoes, simple, and clean. They aren't having sales, promotions and anything-that-will-make-you-buy-now! Though they do have end of season sales, it is on select models/colors/sizes that they need to pass along. It takes vulnerability and authenticity to take this approach.
Their designs are classy, classic, modern, unique and timeless all in one go. Sure, a few quirky ones here and there but I can wear these boots with a fancy skirt or jeans, forever.
You can make it yours. It's a lot of effort for a small company to offer customization on a product but they go the extra effort to do so, to make it yours not theirs. At no added cost. You can select any leather style they offer in any shoe style. And they customize the instep and the foot width. And even the sole material! They don't have to do that, and they could even upsell their customers for it, but they don't. That is generosity.
As you can see there is a lot to be learned about a brand if we are looking closely, asking the right kinds of questions. Knowing what is important to you is the first step!