Can you imagine what it might have been like to live in the times of Einstein or Galileo?
A time of discovery and heated politics between the church and science. A time when everything you thought you believed in was challenged, that from one day to the next, you woke up seeing the world in a completely new and different way?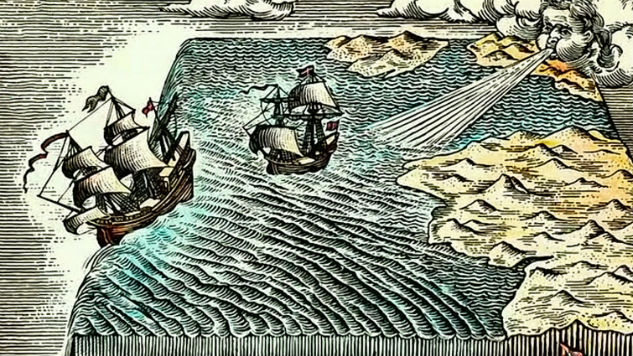 Well, that's exactly what happened to me.
It was as if one day I believed the world was flat, and then the very next day I realized it is round.
Nothing else changed. I still ate the same breakfast every morning, kissed my lover off to work, and lived amongst the trees and flowers who have grown for centuries without a care about the shape of the world, men's philosophies or politics.
There is a great and noble man, actually two men, who are living in our time, who are the Galileo, the Einsteins of our day. And I believe that without them, our ships would irreparably sink. They offer the life vests and safety boats we desperately need right now.
They are William McDonough and Michael Braungart. Ever heard of them?
Like the work of many geniuses, they have many theories, but the one that made my world round was essentially this:
We're not going to make the world a better place with 'Sustainable' or 'Zero Emissions' or 'Low-Impact' or 'Carbon Neutral'.
'Why not?' you might ask? That's everything we believe in, everything we've been taught to believe, that's the whole damn mission right now!
It's so simple, and yet so profound.
They summarize it with this very simple mathematical equation.
If all we have is bad, 'less' is a qualifier, so less bad is still bad, just less so. If our goal is to get to 'good', we can never reach that with 'less bad', with 'zero' or 'neutral'.
Mathematics not your strength? Me neither. Fortunately there is a visual chart to illustrate:
No one wants to be a zero. Fortunately no one is.
If we want 'good' we actually need to strive for good.
And what about 'sustainable'? Sustainable doesn't sound so bad, does it? But does it sound good? He asks this popular question: "Think about attempting to fall in love less wastefully. Or what about an efficient childhood? Who would want simply a "sustainable" marriage? Humans can certainly aspire to much more than that."
Is this what we want to tell our kids and future generations: 'We are leaving you with a world that you can exist and sustain in'. Is that what you dreamed of when you were growing up? Is that what lights your heart up in the mornings to start a new day?
I don't think so.
We are creatures of manifestation. What we dream, we build and make happen, that is for sure. For good, or for bad, or for 'sustainable'. If 'sustainable' is all we set our sights on, then it's going to be a bleak world indeed. Welcome to 1984. Cue the melancholic orchestra as the camera rolls over concrete city blocks with intricate systems of waste treatment plants in grey rectangular buildings.
William McDonough is an architect and a sign of his genius is the fact that he thinks a design through to the end. He has thought through the design intention of 'sustainability' to the end result. That's all. Just go on thinking what are the results of this and then this, on and on until you reach a point far down the future. Then, ask yourself, 'Is this what I want to make?'
Design is the first sign of human intention, and who would intend, who would purposefully set out, to design a system that pollutes our air, our water, our mother's milk with harmful chemicals?
Start with our intention they say. Start with our values. And in this way, we will get the result we wanted. Right now we are living in a world of design failure. Nobody took the time to think the design through to its final effects. Good intentions were not set.
When aiming for the negating, self-abasing goal of zero emissions, people rally to reduce population and curtail consumerism and development, wag fingers at industries, and keep us mired in the world of limits and poor self-image for our species as a whole.
If we are going to get out of this mess, we need to change the way we design, we need to start with good intentions.
So from today, let's dream a beautiful, benevolent future. What about, in the words of William and Michael:
A delightfully diverse, safe, healthy, and just world with clean air, water, soil, and power-economically, equitably, ecologically, and elegantly enjoyed.
Yes. Let's enjoy. Let's surround ourselves with elegance and beauty and delight, diversity, health, justice and equality. Let's "…think beyond sustainability to a world in which every human act becomes one of beneficence and abundance." Let's change the conversation and the goal to be a world we want to be a part of, to thrive in. Let's dream a world where the more we come alive and thrive, the better it is for the planet. Can you imagine?!
Yes!
Or no? You think it's not possible? Well, that's what a lot of flat-earth people said too. William and Michael have a good answer for that:
The ants' biomass is greater than ours. At any given moment, the biomass, or stored energy, of the world's ant population is five times the biomass of our current human population, or roughly the equivalent of 34 billion people. ….They have thrived on this planet and continue to thrive, redistributing their resources rather than (as people do) depleting them. Why should humans see ourselves as creating the only systems on the planet that can't participate delightfully and safely in the natural world, the way a tree or a forest or an earthworm or a colony of ants does?
Still not convinced? You're a diehard believer that our world is going to hell in a handbasket and this is just some utopian outlook that serves no practical purpose to save us?
Look, few of us have actually seen the globe as a round ball with our own eyes. Few of us actually see that there is a 'brain' in our skulls. And yet we are able to believe it is possible and probable. Even though we might not see a way to participate on this planet in a beneficial way right now, we can strive to do so. Indeed, I believe that we already do in small ways every single day. That's the reason we bake a birthday cake in surprise for our friend, or show up unannounced to support a colleague with cancer. We bring joy to the world around us. We have this innate capacity and desire to make the world around us a beautiful one. Let's harness that and scale it up.
And, I would have to agree with you, it is a utopian view, that's the whole point. Why would we strive for anything less? It's a vision of a beautiful world where factories clean water rather than pollute it, a world without warning labels and regulations. One with beauty and abundant goodness.
If a product were crafted to be healthful from the start, having more of it in the world would simply mean thriving businesses and satisfied customers. No one -not a businessperson, not an environmentalist- would want to stifle the product's creation, distribution, or consumption (or put it in a well-ventilated area). Regulations and warnings say, in other words: This thing exists, but it would be best for the health of humans and the planet if it did not. But given that it does exist, here's how to minimize, though not eliminate, its awful effects.
It's about time to design better, to intend better. We set our sights on the moon once, filled the hearts and minds of people with hope and inspiration, and we made it there. Let's do that again.
And I'd say that the quicker we can wrap our heads around this and turn this ship on course towards this bright future, the better. I think we can all agree that time is of the essence right now. Greta Thunberg is calling it an outright emergency. And when you are in an emergency, you pull hard on the emergency brake. The problem right now is that we're all quibbling about what and where the brakes are because we didn't get an in-flight video and demonstration about the location of our safety vest and the nearest exit.
When we realize the price we pay for careless design, it's clear that society might shift its thinking to consider good design not a simple luxury for the wealthy but a fundamental human right for everyone.
Good design with good intention is of the essence now; it is our emergency exit and lifevest.
Designers do not have the right to inflict suboptimal design on all of us.
But they are inflicting violence and pain, everywhere. And right now the 'sustainable' movement is not exactly helping us either. Sometimes 'sustainability' is actually the biggest problem in sight. When sustainability is wielded without forethought of intention and responsible thinking of follow-through impacts, we get tyranny, we get a disaster:
Part of the problem is that starting with a metric blinds planners to the larger effects of one's actions in a way that a values-based plan does not. For example one of the ways the EU tried to meet the 20% objective [20% of energy supplied by renewable resources by 2020] was to begin importing palm oil from Indonesia, which they felt could be burned to make a "clean" non-fossil-based biofuel. Switching to palm oil may result in less Co2 being released from burning fossil fuels in Europe, which was ostensibly the value of switching to renewables. But Europe's importation of 3.8 million tons of palm oil in one year alone has accelerated the deforestation of the Indonesian rainforest after land was cleared to plant palm forests. Beyond the tremendous loss of flora and fauna, there is, ironically enough, a large increase in the emission of carbon dioxide into the air. Because of these emissions, Indonesia is now the third-largest emitter of greenhouse gases, behind China and the United States. Ironically the lower carbon dioxide emissions in Europe from using biofuel are offset by this other carbon dioxide release in Indonesia.
Criminal design. Again, let me restate that: "Designers do not have the right to inflict suboptimal design on all of us."
Do you see?
No? You think this was just a mistake, some oversight? Let's look at criminal design in Brazil:
Brazil too tried hydropower, resulting in a slew of negative effects. The rainforest wasn't cut down, which sounds good. Instead, the rain forest was flooded to create the requisite water mass and vertical drop to drive the generators. Unfortunately, wood and other vegetation soaking in the water create methane as they biodegrade. The methane emissions made more greenhouse gases than were offset by using hydropower. Highly corrosive hydrogen sulfides caused by the biodegrading plant matter wreak havoc on the turbines. Those hydrosulfides kill wildlife in the rivers. Yet the surface facts remained: Trees weren't cut down, which is environmentally beneficial, and money was saved because there was no cutting, which is economically beneficial. But, really, is this good design?
This has to stop.
The problem with 'sustainable' and 'ethical' fashion today is exactly this. People trying to be 'less bad' and doing bad (all more or less still being bad). I see it everywhere. And it's so hyped up. Unfortunately in fashion, everyone loves to be the best, the most popular, even the most less-bad-but-still-bad. Like this:
It's so shocking it makes me laugh. FYI, 'Vegan Leather' here actually means plastic. And no, they are not the 'Most Sustainable' sneakers. But after my new world view, even if they were, I still would not want them. I would want the 'Most Beneficent and Beautiful' sneakers. Wouldn't you? Now let's see the fashion world up their competitive game to be the best with that. I'd like to see them succeed. (Fortunately, some people are trying.)
So there it is. Two of my personal heroes. And Time Magazine's too. And Bill Clinton's too, who ironically gave William the United States Presidential Award for Sustainable Development (perhaps we need a new title for that award, you think?).
They leave us with something to look forward to in a sea of bleak. Their vision is the life-raft among scary and turbulent times. Not because it is something so utopian and grandiose, but because it is so simple and so believable. It is what we all come into the world knowing as children and un-learn as we grow up.
The path to a more beautiful world can come from vast plans and small gestures, it can save cities or tend sturgeon, as long as the strategy bears the needs of future visitors in mind. As long as one continuously rebegins every day with generous intention.
May it be so.
I love these guys. And if you do too, and you want to watch some of the videos below of William 'Bill' talking in depth. He's amazing. My hero. But I already said that. Now go, and be awesome and make this world a beautiful place. I know you can.
TED talk introducing their works and philosophies. (22 mins)
Cradle2Cradle Philosophy applied to Fashion (15 mins)
In-Depth Lecture at Google Campus (56 mins)